Here is a selection of the business websites we have created for our clients.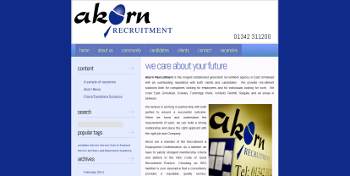 East Grinstead based Akorn Recruitment required a website with full content management. They needed to post new vacancies, employment news and tips for job seekers.
It was agreed to base the new website on the WordPress platform. WordPress is easy to learn and use and thus well suited to situations where the business needs to update it's website content on a regular basis.
---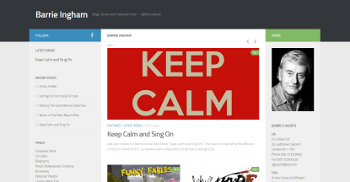 Barrie Ingham is an actor with a successfull career spanning from the 1960's to the present. He starred in a version of the Robin Hood story "A Challenge for Robin Hood", appeared in many plays and musicals in London and on Broadway and was the voice of "Basil: the Great Mouse Detective".
Barrie wanted a showcase of his work, so that meant pictures, text, video and audio. WordPress provides a wealth of functionality to manage various media.
---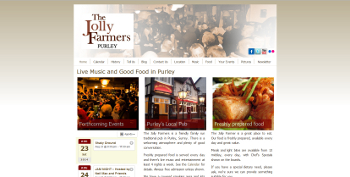 The Jolly Farmers in Purley is a busy pub serving drinks, lunches and entertainment in the evenings. The owner wanted to upgrade from a previous website that was inflexible and could not show the many activities happening at the pub.
The content management facilities are used to allow pub staff to update the website with pictures of events and blog entries. A "what's on" calendar shows forthcoming events. The website now reflects the many activities of the pub. The website also performs well in search engines and appears on the front page of Google for many queries.
---
The High Premium Group represents the interests of a group of Lloyd's Names. The website promotes the group and provides information and news to members.
An important function of the website is to facilitate bookings for the monthly Lutine Luncheons. Members can book a place at forthcoming luncheons online.
Useful downloads and documents are frequently posted on the website as a service to members.
---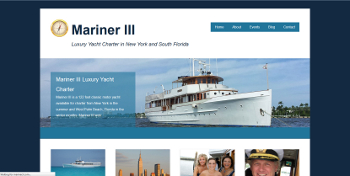 Mariner III is a luxury motor yacht based in New York during the summer and Palm Beach Florida in the winter. The boat is chartered for parties, weddings, corporate events, product launches, photo shoots and other activities.
The owners were looking to replace an under-performing website with a far more functional and easy to find version.
Since relaunch in July 2014, the Mariner website has shot up the search engine rankings. Work continues to improve results for key phrases and drive up the amount of business generated by the website.
---
Portfolio-of-web-design-work
If you need to create or update a website, please contact us. An initial consultation is free and there's no hard sell. Just tell us what you want to do and we will advise you how to make it happen.
Call 020 3129 6259 or email info@vapourtrail.biz