I was recently approached by Linda Shepley of Read Shepley. She was looking for a redesign of her website to support a relaunch of her virtual typing service.
I met with Linda at her premises in Lingfield to discuss her needs. The existing website had been in place for many years. As was normal at the time of creation, it was a static website, built of HTML file pages. Updates could only be done by a webmaster. Linda wanted the website to support SEO campaigns, social media marketing activity and to have a fresh and contemporary look. She needs a file upload facility to allow clients to send her audio files of conversations, interviews and meetings for transcription. These files are typically far too large to send by email.
The solution I offered was based on the WordPress Content Management System. I tend to use WordPress for pretty much all business websites. This is because it is so flexible and easy to use that nothing else really competes. WordPress functionality can be extended by adding functional plug-ins. These included:
SEO by Yoast – This very useful extension allows the user to assess the optimisation of the content of a page or post against selected keywords or phrases. It also generates a sitemap to help search engines index the website.
MetaSlider – was used to create the slide show on the homepage.
Google Analytics by Yoast – was provided to show Read Shepley managers information about numbers of visitors to the website.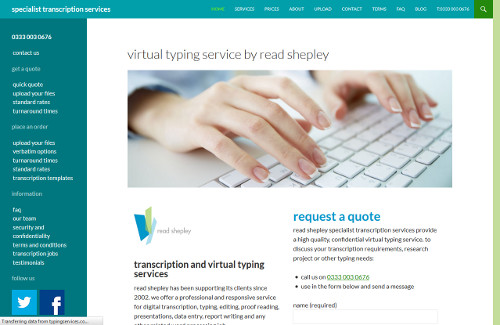 A file uploader solution has also been deployed to facilitate audio file uploads up to 300mb.
The website launched recently and is already appearing higher on Google searches than the previous version of the website. Because of the flexibility and ease of use that characterises WordPress, further work to improve the search engine ratings is easy to do. This can either be done in house or by a specialist SEO provider.
Linda commented that Vapour Trail were very easy to work with and had delivered all that she requested. The new website was delivered on budget.
The new website can be seen at www.typingservices.co
For a no obligation chat about updating your website, please get in touch on 020 3129 6259
Chris Jerrey