Web design East Grinstead
We are a web design business based in East Grinstead, West Sussex and have established excellent relationships with a number of companies in the town. As a local provider, we can develop a personal, face-to-face relationship with our East Grinstead clients.
We believe in the local business ethic. We want to get to know you and help your business move forward. As well as businesses, we work with charities, sole traders and other organisations
Local clients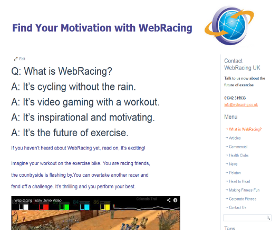 WebRacing is the exercise concept of the future! Rather than grinding out the miles alone on your exercise bike, race Head-to-Head with a friend. Or join a Peloton at at gym. Pedal harder and your onscreen avatar moves ahead of your opponent.
For home users, an existing exercise bike can be updated to use WebRacing technology. It's a great way to improve motivaton.
For gym owners or health club providers, WebRacing is a great way of motivating and retaining members.
WebRacing raises motivation, makes exercise a more social and competitive experience and allows particpants greater access to statistics about their current and historic performance.
WebRacing is a powerful tool in assisting people to greater fitness and achievement.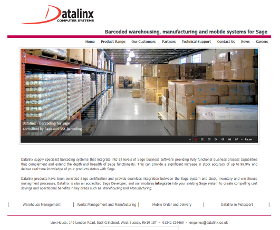 Datalinx provide barcode software and hardware solutions integrated with multiple versions of the popular business software, Sage. Their systems include stock control, warehouse management, van sales and time and attendance.
Datalinx are a leader in the field of barcoding software and sage integration. They operate several websites to support their various spheres of business. Vapour Trail provides development and support for all these websites and is proud of it's long running relationship with Datalinx.
WordPress
WordPress is an very flexible and scaleable CMS. It can be used for single page blog websites up to websites with hundreds of pages and enhanced functionality. Our Small Business Website package is based on WordPress and costs only £249.
Joomla
Joomla offers greater functionality and is suitable for medium sized businesses that have specific technical requirements for their website. We can develop new functionality and maintain the website to ensure secure operation.
Web design East Grinstead
So if you need: a new website, additional content, a new design, upgrade or new functionality we can help. If you are in the East Grinstead area and would like to deal with a locally based web designer, get in contact on 0333 123 0004 or email info@vapourtrail.biz